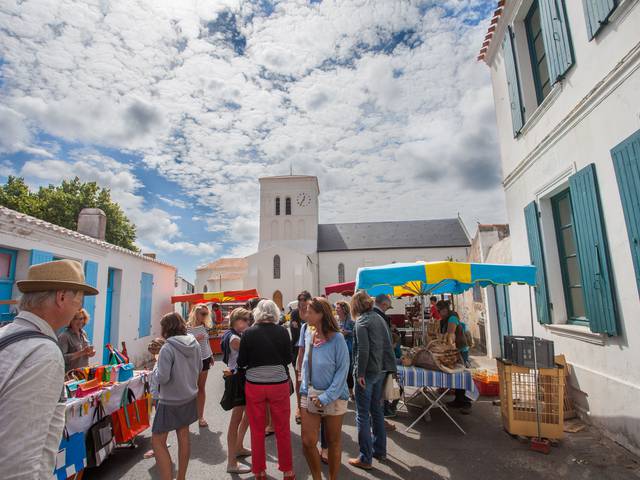 Once attached to the mainland, the island was finally cut-off permanently about 5000 BC.
The Ile d'Yeu is located 17km off the Vendée coast and covers a surface area of 23 km² with a large diversity of landscapes - long beaches and coastal dunes backed by pine woods, a wild coast with lofty cliffs encircling sandy coves, moorland heaths with short grass where armerias grow, hollow paths criss-crossing the valleys and alongside the cliffs, hedgerows with an abundance of wildlife nestling in the shelter of willow and sloe, and low houses with tiled roofs and brightly coloured window shutters.
For many decades the premier tuna port on the Atlantic coast, the Ile d'Yeu is still dedicated to fishing, landing bass, turbot, sole, bream and hake on its quays alongside crustaceans.
The island has 5000 inhabitants, of which a quarter are under 25 years of age. The Ile d'Yeu is a lively and friendly place deeply marked by the call of the sea which captivates everyone, whether here for a day, a holiday or to live.
SOME KEY FIGURES
Area:
23 km2 (L= 9.875 km, w = 3.750 km)
10 km from Pointe du But to Pointe des Corbeaux and 4.5 km from Port Joinville to La Meule.
Maximum altitude: 32 m Average altitude: 9 m

Distance from the coast:
Yeu > Fromentine : 25 km
Yeu > St Gilles Croix de Vie : 31.5 km
Yeu > St Jean de Monts : 22.8 km
Yeu > Les Sables d'Olonne : 47.8 km

Population:
4,771 inhabitants (1 Jnauary 2015)
Population density: 205.4
School children: (On the island: 510 / On the mainland: 286)

The municipality
1 administrative area
26 councillors
1 mayor + 7 assistants
1 county counsellor (Vendée)

Households (source INSEE 2015)
Main: 2,154
Secondary: 3,348

Water supply
The island is supplied with drinking water by an underwater pipe 18 km long, installed in 1961. Drinking water is supplied by the Apremont dam in Vendée. Water reserves are divided into 2 reservoirs and a water tower, with a total volume of 7,000 m3.

Electricity supply
The island is supplied by three submarine cables 19 km long (voltage 20,000 volts) from Saint Jean de Monts. They serve around 6,000 subscribers.