Please, fill your starting point.
No itinerary was found.
From April, crossings leave Saint-Gilles-Croix-de-Vie, a charming seaside resort.
Saint-Gilles-Croix-de-Vie is a charming seaside resort that has managed to preserved its traditions and a good way of living. This maritime town has a wide range of activities to discover with family or friends. It's an ideal place to wait for your ferry crossing to the Ile d'Yeu.
Enjoy outdoor activities (sailing, fishing, coastal and river walks, cycle paths, guided tours and guided walks) or cultural tours (House of the Fisherman, House of the writers of the sea, the Josephine Tower, the "Pearl of the Gods," churches and much more). Festivals, events and exhibitions take place all year round.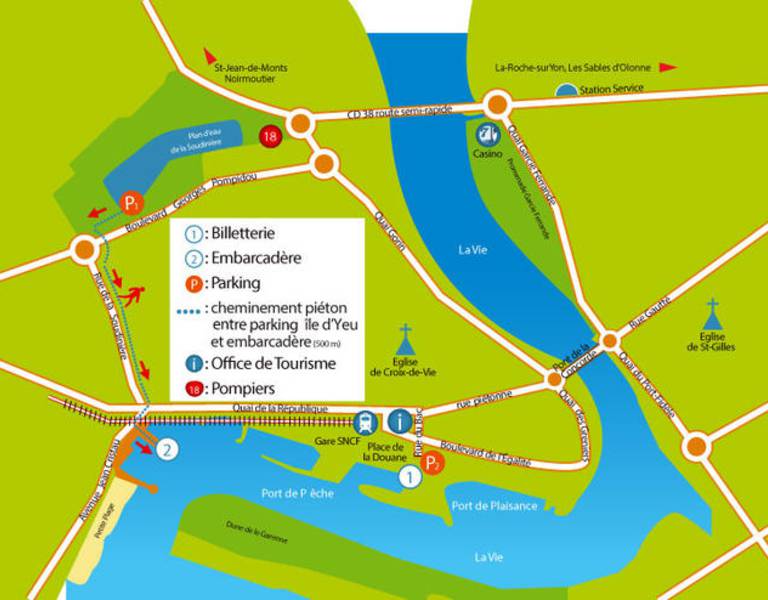 Boarding jetty
Avenue Jean Cristau 85800 SAINT GILLES CROIX DE VIE
ARRIVING BY CAR
If you come by car, you'll find plenty of parking spaces near the pier to the Ile d'Yeu: in the car parks of Saint Gilles Croix de Vie
All you have to do is add the crossing time between the mainland and L'île d'Yeu (1 hour) to work out when your holidays, which you have dreamed all year, are finally about to begin.
Why not reduce your carbon footprint by opting for carpooling, an opportunity for you to meet the locals, people who love their island and who really enjoy sharing their knowledge and favorite places.
Free car parks near the boarding pier
Ile d'Yeu boarding jetty car park: Avenue Georges Pompidou, 500 metres from the pier. Tariffs applicable from June 15 to September 30
Ecole des Salines car parks, rue des Paludiers, 600 metres from the pier
Douanes car park, Place de la Douane, 500 metres from the pier. Tariffs applicable from

15 June to 30 September

Soudinière swimming pool car park (pool closed)
After the camper van park, rue des Paludiers, 1000 metres from the pier.
More information about parking for download
Arriving by train or bus
Choosing to travel by train contributes to the sustainable development approach, to which L'île d'Yeu is very attached.
Numerous rail connections from a station (SNCF) near you will bring you to Nantes or La Roche-sur-Yon. Next, those two cities and Saint-Gilles-croix-de-Vie are linked by bus or train.
You will find the boarding pier near from the rail station of Saint-Gilles-Croix-de-Vie (5 min walk).
Bus lines
Taxis
There are taxi ranks at the SNCF train stations and at Nantes Atlantique airport.
ARRIVING BY AIR
If you are coming from far away, you can fly to the nearest airports in the area, then book a taxi or a bus to reach the passenger ports.
Nearest airports
BY BIKE
For more athletic visitors, the Vélodyssée cycle route passes near the ferry ports. You'll have to arrange to have your bike looked after during your visit, or pay to take it on board.